Business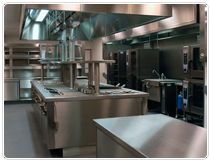 Our tasks are:
•   To offer modern technological projects to the Customer, executed with the world's latest design developments of public catering, trade enterprises and public services establishments in compliance with Russian federation norms.
•    To work for the benefit of project customers, company's employees and business partners.
•     To maintain a healthy competition among project organizations in European market.  
Our main value is the confidence of our Customers.

We value our impeccable business reputation and always fulfill our obligations in relation to our customers.

Openness, fairness and professionalism are the principles of our business.

The target of our activities is our striving to promote economic development and prosperity of our customers.

The team of our company is one of our main values. The specialists of our company are real professionals of their business.

We have respect for our business partners, their achievements and strive for long-term and mutually profitable cooperation.

We strive for achievement of maximal result at the lowest costs


List of works carried out by our company.
• 
    Object zoning. Stage P (project documentation), Stage WD (working documentation).
• 
    Technological solutions for all public catering establishments, including hotels.
• 
    Technological solutions for trade enterprises.
• 
    Technological solutions for small laundries and public services establishments.
• 
    Technical support of projects fulfilled by foreign specialists (conformation with Russian Federation norms).
• 
    Observation on the construction works and regular supervision.
List of works on development of project's technological part.
"Project documentation" stage

Description of works
•    Meeting with Customer, obtaining preliminary design task and receipt of architectural and construction plans and drawings.
•    Project statement preparation
•    Familiarization with architectural and construction plans and drawings. Fulfillment of engineering planning with working out the details of clean and dirty streams of raw materials, half-finished products, final products, food waste, dry garbage, clean and used dishes.
•    Agreement with the Customer, General designer and Technological planning operator.
•    Distribution of basic load tables to related engineering specialists (water supply and sewerage, heating and ventilation, electrical mounting, light current etc.)
•    Manufacturing equipment placement in planning agreed, arrangement of floor drains and overflow launders as well as hoods.
•    Preparation of the equipment specification containing manufacturing equipment models
•    Preparation of explanatory note describing all technological process
•    Binding project documentation at the stage "Project" and giving it to the Customer in 3 copies, and as an electronic document.
•   Participation with the Customer in approval process at Russian Federal Service on Customer's Rights Protection (Rospotrebnadzor) and Expertise.


List of works on development of project's technological part.
"Working documentation"stage

Description of works
•   Further work on technological planning and equipment placement on the base of General designer's architectural and construction drawings after working out the technological planning by all engineering specialists indicating and marking on drawings transit standpipes, floor drains and overflow launders, additional air chutes, power boxes etc., development and issuing final technological planning with equipment arrangement and connections to enclosures and compartments, issuing the corrected table of main engineering loads.
•    Erection plans development specifying engineering connection points for vertical, horizontal equipment connection, specifying diameters, heights of equipment connection points, hoods, overflow launders (water supply and sewerage, heating and ventilation, electrical mounting, etc.), setting the task to the General designer.
•    Cooperation with related engineering specialists on all engineering subjects: architecture, water supply and sewerage, heating and ventilation, electrical mounting, light current etc.
•    Draft compliance with issued erection plans among all engineering specialists.
•    Binding project documentation at the stage "Project documentation" and giving it to the Customer in 3 copies, and as an electronic document.
•    Participation with the Customer in approval process at Russian Federal Service on Customer's Rights Protection (Rospotrebnadzor)